AT&T is one of the leading telecom companies in the world, initially established in 1880 as the Southwestern Bell Telephone Company. In 1918, AT&T was given a government-sanctioned monopoly to become the exclusive provider of telecommunications service in much of the United States. AT&T unveiled its mobile 5G network in 12 cities across the United States on December 21, 2018, becoming the second-largest telecom company in the United States.
AT&T Plans
AT&T is providing an interesting funding scheme for AT&T subscribers who are unable to afford new and expensive phones.
Both plans have been called AT&T Next and AT&T Next Every Year and are planned to distribute the purchase price of the new phone through monthly payments. Instead of paying the entire amount upfront anytime, you purchase a new handset, you can opt to pay for the installment plan. The repayment installment package takes the entire price of the new device and extends it to low monthly installments. Plus, you're not paying any financing fees or interest.
What is AT&T Next?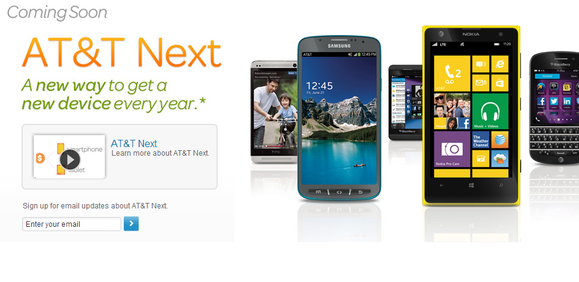 AT&T Next requires you to upgrade to a new handset every two years by trading it with an eligible device. But the AT&T Next Every Year service helps you to switch to a new smartphone every year. Before opting for AT&T Next or AT&T Next Every Year, you must realize that you are expected to sign an installment plan and will face subscription payments for your mobile before the total price of your handset is paid off. You won't be allowed to cancel the AT&T Next deal until the handset is 100% yours. If you opt-out of AT&T Next, you'll stretch your payments over 30 monthly installments, but you'll be able to upgrade to a new handset after two years.
To be eligible for the trade-in:
You may need a down payment of either 30 percent or a range of $0 to $600, depending on a variety of factors.

You'll need either a financed smartphone or a phone of the same make and model, that is both fully functional and in good physical condition, to make the trade.

You are required to have, at the minimum, a $45/mo plan – after AutoPay and paperless billing discount.

You can only upgrade once you've exceeded two years of phone ownership or have paid 80% of the device's cost.
Summing it up, At&T Next offers and requires the following:
Installments of 30 months

To upgrade every 2 years or 24 months 

To upgrade after 80% of the phone's price has been paid off

The phone has to be returned in good working condition
AT&T Next is basically a device repayment program and an upgrade option combined into one.